The forum is up and functional. Please register to begin using the forum.

When you register, you will be part of the Cofrancesco Address Book. You can share your contact information with the rest of the family.

The photo album is still under construction and is not yet functional.

The family news section is currently empty. This will be available as soon as we get some news in. Please submit news through the forum.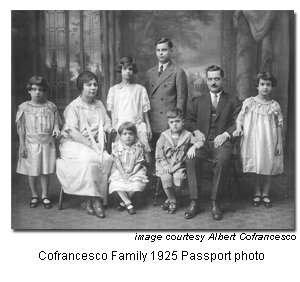 Cofrancesco.com is intended to bring the family closer together through an online meeting place where stories, events, photos, and other happenings can be exchanged.

The site is new and the development is being juggled amongst other projects, but the intention is to bring a lot more functionality and interactive tools in the near future. Please provide any suggestions or recommendations to new functionalities, or if you notice any errors or signs of misuse to the site administrator at Site@Cofrancesco.com.

The site will naturally progress as more users and visitors supply content. Please register with the site as this will provide an address and contact list for the rest of the family as well as a way for you to receive information regarding new additions to the site. Your privacy is respected and you may opt out of having all or part of your information shared. In regards to being contacted via e-mail, if you are worried about your e-mail address getting in the hands of spammers, still provide your e-mail address, but choose to not share your e-mail. This way site visitors can send you e-mails, but the e-mails will be sent to you in a way that the sender will never see the actual address the e-mail is going to. Then it becomes at your discretion if you would like to respond to the message in which case your e-mail address will become visible to that user.

Special thanks to Albert (Sonny) Cofrancesco for the family history portion of this site. All that content was provided by years of research on his part.

Please feel free to link to this site. Search engines such as Google and Yahoo! will rank this site higher in their search results based on how many other websites offer a link to this site.